About Nagarkot
Located at a mere 28-kilometre drive away from Kathmandu, Nagarkot offers one of the best views of the Himalayas in the entire region as it has an altitude of 7000 feet (2000 metres)! Perched at the edge of Kathmandu Valley, Nagarkot gives you one of the widest panoramas of the Himalayan ranges - you can spot 8 out of the 13 Himalayan ranges from the comfort of your hotel. The mighty Annapurna, Manaslu, Langtang, Jugal, Everest, Numbur, Ganesh Himal and the Rolwaling ranges can be seen from Nagarkot on a clear day!
An erstwhile summer retreat of Nepali, Indian and British royalty, this village rose to fame after tourists thronged the area in recent years. The idyllic village sits serenely in the midst of nature - the only sounds you can hear are the birds chirping and the breeze whistling through the pines.

One great advantage of this viewpoint is the close proximity to the capital, which means that you can easily access Nagarkot from Kathmandu without spending too much time and money on travel. Accommodation is also cheap here, as is the food - Nagarkot clearly wins on all fronts!
Best time to visit Nagarkot
The best time to visit Nagarkot are during the Spring months of March, April, and early Winters of October, November. The climate is pleasant in spring, and the hills look very pretty with the most colourful flowers in full bloom. You can enjoy activities like hiking and paragliding to the fullest during these months. May-September is the summer in Nagarkot, and the heat will make outdoor activities a little difficult. There are sometimes heavy rainfall as well which makes it tough to stay there as a tourist. November-February are the winter months in Nagarkot, and the temperature starts to drop rapidly. There's a lot of mist and fog because of the heightened humidity all year round. During the evening and night, the visibility gets reduced and touring out at this hour might seem a little problematic.
How to reach Nagarkot?
Nagarkot is around 30km from Kathmandu International airport. The best way to reach is to take taxi from the airport. Direct flights from India are available to Kathmandu from where you can take taxi to reach Nagarkot. Kathmandu International Airport is 30 km from Nagarkot. You can take bus or taxi from there.Taxis are available from Kathmandu to Nagarkot which takes around an hour.The major bus stations located near Nagarkot are Green Line Bus Station, Chautara Bus Station, Gongabu Bus Station and Maitidevi Micro Bus Station.
Places to visit in Nagarkot
The Nagarkot Panoramic Hiking Trail
---
This is a 12-kilometre trail beginning here, composes of the Nagarkot Nature Trail and the Tamang Village Walk. Here you can hope to spot exotic butterflies of many colours and other mountain animals as well. Experience first-hand the authentic and eclectic culture of Tamang village and enjoy the hospitality of the charming locals, as you hike your way to one of the most remarkable viewpoints of Nepal. On a good day, you can spot the peak of Mt Everest from here! The trail takes a mere 3.5 hours to complete.
The Nagarkot Buddha Peace Park
---
The Nagarkot Buddha Peace Park is another place you can hike to. The highlight of this park is the golden Buddha statue perched at the centre - you will have to navigate through terraced gardens to reach the statute, but the walk is worth it.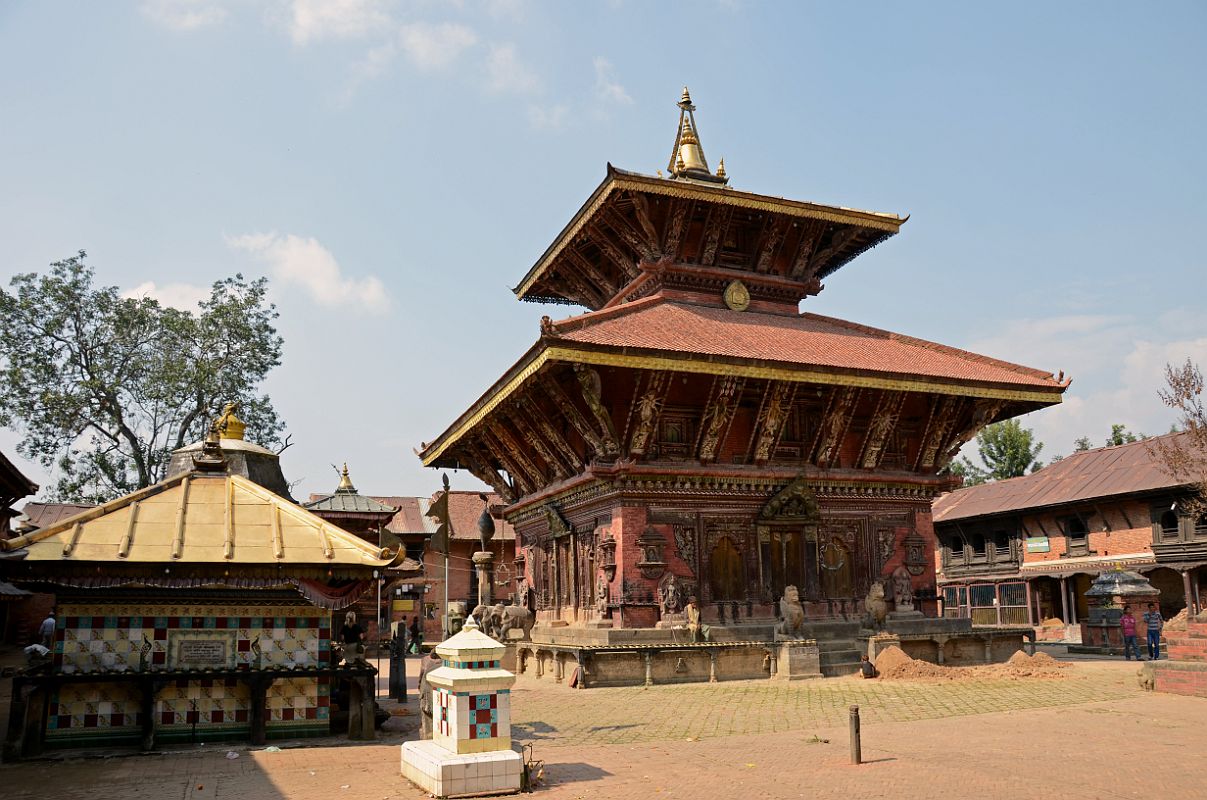 History buffs are in for a treat - the Changu Narayan temple, almost 2000 years old, is a UNESCO World Heritage Site located close to Nagarkot. Dedicated to Lord Vishnu, this temple stands as a testament to the culture and architecture of yore. Overlooking the verdant valley, the Changu Narayan temple is nestled atop a hill, surrounded by fragrant Magnolia trees. The carvings and style of the sacred site are indeed stunning.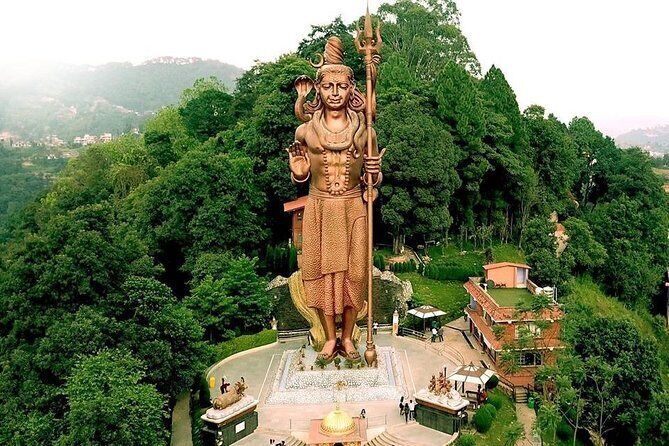 The Kailashnath Mahadev Statue
---
The Kailashnath Mahadev Statue, the world's tallest statue of the Hindu God Shiva, is a 20-kilometre drive away from Nagarkot. This 143-metre structure towers over the villages and stands guard to the valley.
Activities in Nagarkot
1. Trekking
Nepal is a trekking destination in the World. Pokhara area is the center of trekking in Nepal. Pokhara is popular for adventure tours and the base for the most popular Annapurna Circuit trek. Some of the other popular trekking regions are the Everest region, the Langtang region, the Manaslu region, Rara/Jumla region and Kanchanjunga/ Makalu region. The city promotes two major hilltops as viewpoints to see the city and surrounding panorama one is Worlds Peace Pagoda and the other is Sarangkot. It is advisable to hire a trekking operator. They will provide you assistant with your problems to tailor your every need while trekking. They help you with your trekking permits, transports, porters, hotels & other needs. Most of the days, the trek starts around 8:00 am and ends nearby at 3:00 pm. Timings are based on starting & ending point Pokhara.
Cost for trekking | INR 3500 for a group (approx)
2. Paragliding
Paragliding has been one of the most popular activities for the tourist in Pokhara. Pokhara is rated as one of the top 5 commercial tandem paragliding locations in the world. It gives a picturesque view of the surrounding that will spellbind a person. Paragliding flight launch from Sarankot about 30 minutes drive from Pokhara. There are three flight times a day, depending on season and weather at 10:30 am 12 pm and 2 pm. The best season for paragliding is from March to May and from Sept till December. There are many companies in Pokhara that offer paragliding in Pokhara. You can also go for a solo flight, you just have to ask for permission at the aviation office of Pokhara, they will allow you to make your own flight.
Cost | INR 6400 of a tandem flight for 30min
Our Services in Nagarkot
Local Taxi Services in Nagarkot
Half-Day Taxi Service: If you are having some work around the city for a short period of time, want a cab for Airport transfer in Nagarkotor Railway station transfer, or wanted a cab to go for a shopping or attending a wedding or party or any other occasion, you can try our Half-Day Cab service. This service is one small package of Musafircab for local usages in the city. The half-day package is a 4Hrs/40km package. Our cab will reach to you within some minutes. You can use it like the full day package, but the duration and the rental amount would be reduced to half of the full day package. If the customer needs extra hours or Kilometers additional rental charges apply.

Full-Day Taxi Service: If you are planning to spend your entire day in the Pokhara, you can try Full-Day cab service in Pokhara also called an 8Hrs/80km Package. This service is most desirable for the traveler who wants to spend their entire day in Pokhara.
Outstation Taxi Service in Nagarkot
If any traveler wants to plan for weekend getaways or for a family leisure trip outside the city limits Musafircab arranges for a compact tour package. We take up group packages from a city in India connecting places nearby. We would send cars accommodating the size of the group. Outstation car rental service is divided into three type's services like Roundtrip, One Way Trip and Multicity.
Roundtrip: This is a 'to and fro service' which is useful for those who would want to make a 'to and fro' journey from one destination to another. You can also request for a Roundtrip for multiple destinations from the destination you are staying. Musafircab provides a list of travel destinations along with a set of rental packages for a to and fro or a roundtrip journey.
One way drop: This is for those who need just a one-way drop to their destination from a city to another destination. You can request for a one-way drop for multiple destinations from your destination.
Multi-city travel: Suppose if you plan for visiting more than one city in a fixed time limit, say for instance you would want to visit Pokhara from Janakpur, from Janakpur to Nagarkot, and then Nagarkot to Chitwan, avail our Multi city travel service.
Popular Tour Packages
Other Popular Destinations in Nepal
CONTACT US
WE WOULD LOVE TO TALK ABOUT YOU HOLIDAY PLAN. FOR A BOOKING OR ANY INQUIRY FEEL FREE TO CONTACT US AT 24*7
---