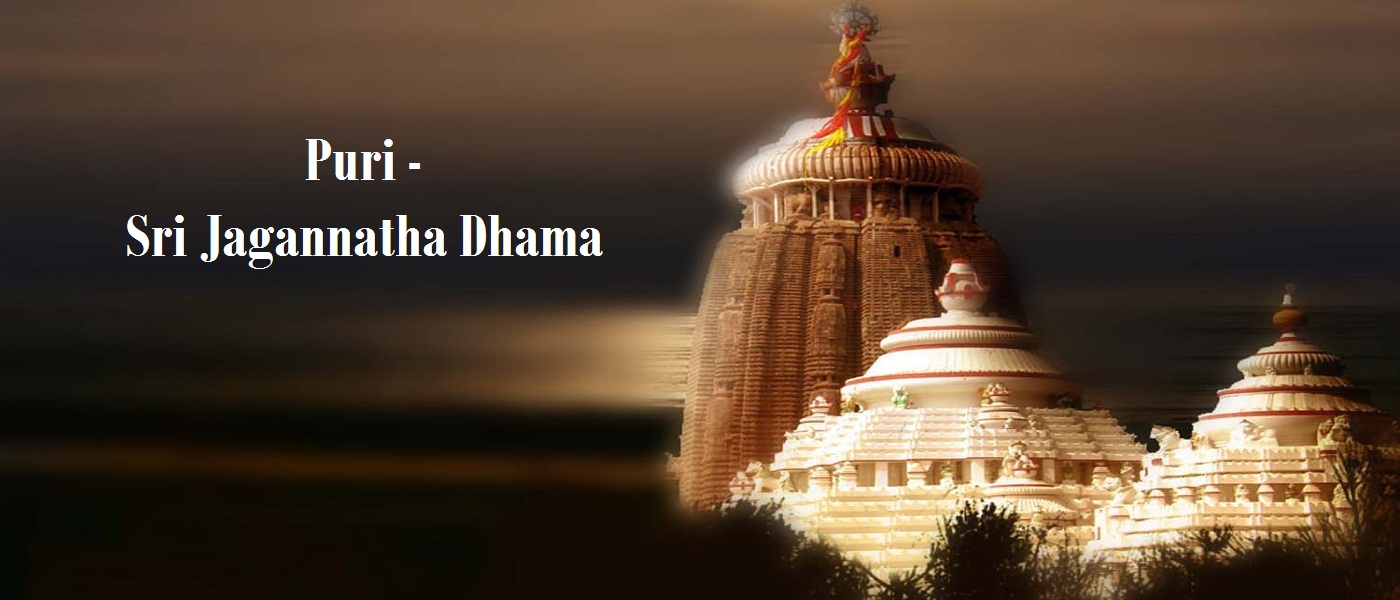 Puri - Sri Jagannatha Dhama
---
Puri is the spiritual capital of Odisha, known as a pious city filled with noted temples, shrines, Maths, Ashrams, natural wonders, beaches, architectural splendor and many more things those attracts world over tourists. It is also known as Sri Jagannatha Dhama after the 12th-century Jagarnath Temple located in the city. It is one of the original Char Dham pilgrimage sites for Hindus. Puri has been chosen as one of the heritage cities for Heritage City Development and Augmentation Yojana (HRIDAY) scheme of Government of India. Puri is known by several names since the ancient times, and was locally known as "Sri Kshetra" and Lord Jagannatha temple is known as "Badadeula". Puri and the Jagannatha Temple were invaded 18 times by Hindu and Muslim rulers, from the 4th century AD till the early 19th century with the objective of looting the treasures of the temple. Odisha, including Puri and its temple, were part of British India from 1803 till India attained independence in August 1947. Even though princely states do not exist in India today, the heirs of the Gajapati Dynasty of Khurda still perform the ritual duties of the temple. The temple town has many Hindu religious mathas or monasteries. If you are looking for Cab Service in Puri let us know and we will be happy to provide you with best price Deals for Car Hire in Puri for Airport Transfer, Railway Station Transfer, Half-Day and Full Day Service in Puri City, car rental in Puri , Puri cabs booking , cab service in Puri, luxury car rental Puri, rent a car in Puri, corporate car rental in Puri, Taxi Service in Puri, business rent a car Puri, Puri Airport cab booking, Car Rental Tour Packages in Puri To visit Puri and its destinations, you can hire a taxi from Musafircab at reliable costs and according to your choice that can be fit in your budget.
Why you choose Us ?
If you are looking for a cab services you can try Musafircab. We are the most trusted Cabs services provider all over the India.We cover +140 cities and over +1600 destination all over India. We provide you the fare tour with a variety of packages which you can choose according to your need. Our driver take off you on time and help you as a local guider in that city. You can book a cab for a full day or for some hours as you need.Our agents will help you to plan your day for a proper visit.
How can you book a Cab?
You can book a cab or taxi to visit Puri we can provide our best service for your destination. Our services are best,we can provide you comfortable and relaxed journey for your source to destination.You can book a cab through our websit www.musafircab.com or you can call us on +91- 888-111-8838 our customer care support are available 24*7 for your help. You can call us anytime for an enquiry. Musafircab is a trusted company among all the tour and travelling company.
Full Days Cabs And Half Days Cabs
Full Day Cab:- If you are planning to spend your whole day in Puri we can provide our cab with a driver as a local guide who can help you to visit your place on time without any worry.
Half Day Cab:- If you want to spend some hours in Puri we can provide you the fair prize trip.You can book a Cab for some hours.
Top 5 places you can visit in Puri
1. Shree Jagarnath Temple
The Shree Jagarnath Temple is one the holiest Hindu Char Dham comprising Rameswaram, Badrinath, Puri and Dwarka. It is an important Hindu temple dedicated to Lord Jagarnath, who was the incarnation of Lord Vishnu. Thousands of devotees pour in from different parts of the country and the world to pay their homage to the presiding deity. The temple is an architectural splendour towering over its surroundings. Embellished with exquisite carvings and sculptures, the temple is a feast for the eyes. The architectural, historical and religious importance of the Jagannath Temple makes it Puri's chief tourist attraction. The present temple was rebuilt from the 10th century onwards, on the site of an earlier temple, and begun by King Anantavarman Choodaganga Deva, first of the Eastern Ganga dynasty.
2. Gundicha Temple
Gundicha Temple is situated towards the north east direction of the Jagannath temple and was constructed in the 16th century. Tt is also known as Garden House. It is shaped like a dome with Lord Vishnu's wheel adorning the top. Gundicha temple is popularly referred to as His aunt's house because when the Rath Yatra festival takes place, Lord Jagannath is shifted to the Gundicha temple for seven days. The Gundicha temple stands in the centre of a beautiful garden, surrounded by compound walls on all sides. It lies at a distance of about 3 kilometres from the Shrimandira, the main temple of Jagannath. The two temples are located at the two ends of the Bada Danda (Grand Avenue) which is the pathway for the Rath Yatra. The Rath Yatra starts on the second lunar day the bright fortnight called as shukla paksha of the Hindu month of Ashadha One day before the Ratha Yatra, the Gundicha Temple is religiously cleansed for housing the gods.
3. Puri Beach
Puri Beach is located on the shore of the Bay of Bengal. Puri Beach is located at the city of Puri and the distance between Puri railway station and the beach is only 2 km. It is known for being a tourist attraction and a Hindu scared place. Puri beach is defined by golden sands, fascinating views of the sunrise and sunset and charming beach resorts combined with lip-smacking sea food. Every year in the month of November, the Puri Beach Festival is organised by Indian Ministry of Tourism, the state of Orissa (Odisha), the Development Commissioner of Handicrafts and the Eastern Zonal Cultural Center of Kolkata. The beach hosts sand art displays, including work by international award-winning local sand artist Sudarshan Pattnaik..It I s an most peaceful beaches, best time to visit this beach is in month of Nov- Dec.
4. Chilika Lake
Chilika Lake is and Asia's largest salt water lagoon. It is located near the Bay of Bengal, this lake is separated from the sea by only a small neck like piece of land. This is a favorite migratory spot for a numerous birds during winter. It is great destination to visit. t has some beautiful islands called Honeymoon, Somolo and Nalabana. It is also home to a phenomenal variety of migratory birds. Almost 160 different species of birds can be found here between November and February. Chilika Wildlife Sanctuary is located in Chilika lake. It is major wildlife sanctuary in Orrisa. It is an spread across an area of 1100sq. kilometer. It is a great place for nature lovers.
5. Markandeshwar Temple
Markandeshwar temple was built in the 13th century, dedicated to Lord Shiva. Markandeshwar Temple is a place where sage Markandeya meditated on lord Shiva. He saw a small child on a banyan leaf floating on the sea and wondered upon. Finally lord Visnu assured him from the doubt. The ancient Markandeswar Shiva Temple is situated in the Markandeswar street by the side of the Markhandeshwar Tank, to the north of the Jagnnath temple, Puri. Bathing ghats are provided for the tourists in southern side of the tank. The tank is used for rituals as well as for normal bathing. Rituals like Pinda Dana, Mundan Kriya etc. are observed on the steps of the tank. Both Markandeswar temple and Markandeswar tank can be dated back to the 12th century AD. Puri became an important center of pilgrimage by the 12th century.
Hotel in Puri
Reba Beach Resort, Puri 4.1* Very Good

Hotel Sapphire International, Puri 4.0* Very Good

Hotel Lotus, Puri 4.0* Very Good

Panthanivaspuri Puri 4.0* Very Good

Hotel New Shankar International 4.4* Very Good
Restaurant in Puri
Pink house Hotel & Restaurant 4.1* Very Good
Wildgrass Restaurannt, Puri 3.9* Good
Radhika Restaurant, Puri 4.2* Very Good
Bhojhahari Manna, Puri 4.1* Very Good
Harry's Cafe Pure Veg Restaurant, Puri 4.3* Very Good
Transfer Car Rental services
Musafircab delivers on time transfer services which you can avail to reach places of commuting like airports, railway station, pick from hotels from bus stands and vice versa to a location of your choice. Read more at Puri Transfer Taxi.
Our Services in Puri
Local Car Rentals Just Call Us And Booked Your Taxi
Outstation Taxi Customer Support No. +91- 888-111-8838
Airport Transfer
One Way Cabs
Railway Transfer Contact Us At info@musafircab.com
Corporate Car Rental
--------------------------------------------------------------------------------------------------------------------------------