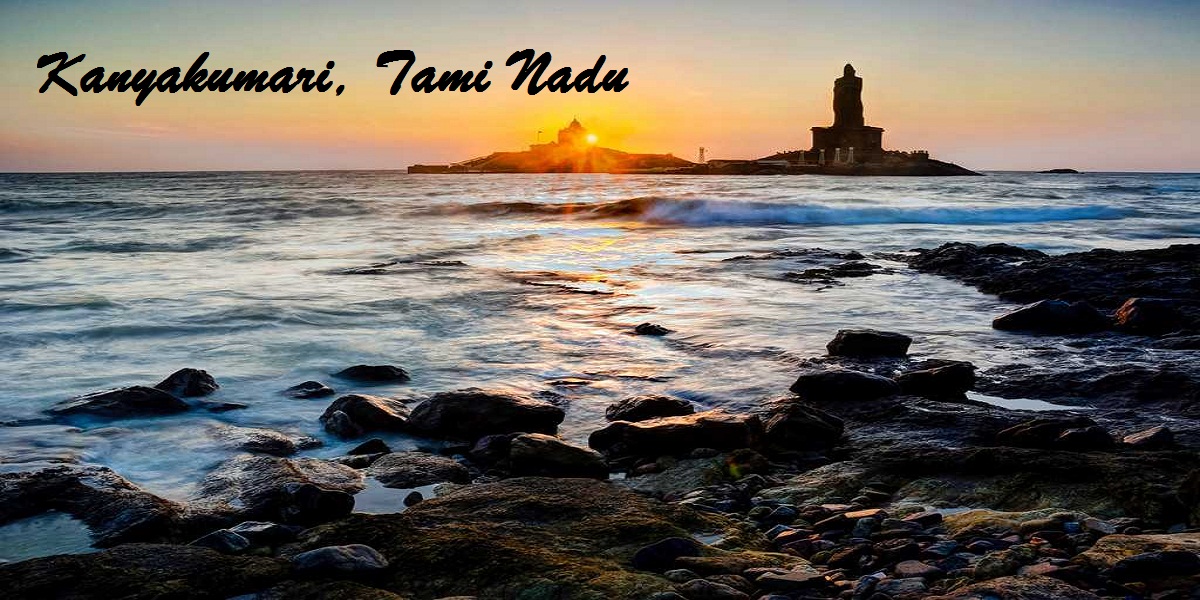 Kanyakumari
---
Kanyakumari is a city located in Kanyakumari district in Tamil Nadu, India. It is a popular tourist destination place. The city derives its name from the goddess Kanya Kumari, sister of Lord Krishna. It is believed that Goddess Kanya Kumari remove the rigidity from the mind, to whom women pray for marriage. There are many tourist attraction spot in Kanyakumari such as Kanyakumari Temple, Kanyakumari Beach, Gandhi Mandapam etc..If you are looking for Cab Services in Kanyakumari let us know and we will be happy to provide you with best price Deals for Car Hire in Kanyakumari for Airport Transfer, Railway Station Transfer, Half-Day and Full Day Service in Kanyakumari City, car rental in Kanyakumari , Kanyakumari cabs booking , cab service in Kanyakumari, luxury car rental Kanyakumari, rent a car in Kanyakumari, corporate car rental in Kanyakumari, Taxi Services in Kanyakumari, business rent a car Kanyakumari, Kanyakumari Airport cab booking, Car Rental Tour Packages in Kanyakumari To visit Kanyakumari and its destinations, you can hire a taxi from Musafircab at reliable costs and according to your choice that can be fit in your budget.
Why you choose Us ?
If you are looking for a cab services you can try Musafircab. We are the most trusted Cabs services provider all over the India.We cover +140 cities and over +1600 destination all over India. We provide you the fare tour with a variety of packages which you can choose according to your need. Our driver take off you on time and help you as a local guider in that city. You can book a cab for a full day or for some hours as you need.Our agents will help you to plan your day for a proper visit.
How can you book a Cab?
You can book a cab or taxi to visit Kanyakumari we can provide our best service for your destination. Our services are best,we can provide you comfortable and relaxed journey for your source to destination.You can book a cab through our websit www.musafircab.com or you can call us on +91- 888-111-8838 our customer care support are available 24*7 for your help. You can call us anytime for an enquiry. Musafircab is a trusted company among all the tour and travelling company.
Full Days Cabs And Half Days Cabs
Full Day Cab : If you are planning to spend your whole day in Kanyakumari we can provide our cab with a driver as a local guide who can help you to visit your place on time without any worry.
Half Day Cab : If you want to spend some hours in Kanyakumari we can provide you the fair prize trip.You can book a Cab for some hours.
Top 3 places you can visit in Kanyakumari
1. Kanyakumari Temple : Kanyakumari Temple also popular as Bhagvaty Amman Temple is a most popular attraction point in Kanyakumari. This temple is devoted to Goddess Kanyakumari, an incarnation of Goddess Parvathi. The major festival celebrated in Kanyakumari are Car Festival is held during Vaikasi i.e., during the month of May-June and the Navarathri Festival is held during September – October. Many India people come to pilgrimage and to bathe in the Kumari Amman Temple.
2. Vivekananda Rock Memorial : Vivekananda Rock Memorial is a popular tourist attraction spot in Kanyakumari. It was built between 1963 and 1970. It was built in honor of Swami Vivekanand. It is said that Swami Vivekanand attained enlightenment on the rock. There are two main structukes in Vivekananda Rock Memorial i.e., the Vivekananda Mandapam and the Shripada Mandapam. The design of the mandapa incorporates different styles of temple architecture from all over India. There is a meditation hall also known as Dhyana Mandapam in Memorial.
3. Thiruvalluvar Statue : Thiruvalluvar Statue is a popular tourist spot in Kanyakumari. Thiruvalluvar Statue is one of the biggest statues in India located atop a small island in Kanyakumari. Thiruvalluvar Statue also called Valluvar Statue is a tall stone sculpture of the Tamil poet and philosopher Valluvar, author of the Tirukkural, an ancient Tamil work on secular ethics and morality. The statue was sculpted by V. Ganapati Sthapati. It has a nearby the confluence of the Arabian Sea, Bay of Bengal and Indian Ocean.
Other tourist attraction spots are Kanyakumari beach, Mahatma Gandhi Mandapam, Our Lady of Ransom Church, Kanyakumari etc.
Hotels in Kanyakumari
Hotel Sivamurugan Kanyakumari 4.0* Very Good 3 star hotel
Hotel The Gopinivas Grand 3.9* Good 3 star hotel
Hotel Sun Park 3.8* Good 3 star hotel
Hotel Temple Citi 4.2* Very Good 3 star hotel
Hotel Sun World 3.5* Good 2 star hotel
Transfer Car Rental services
Musafircab delivers on time transfer services which you can avail to reach places of commuting like airports, railway station, pick from hotels from bus stands and vice versa to a location of your choice. Read more at Kanyakumari Transfer Taxi.
Our Services in Kanyakumari
Local Car Rentals Just Call Us And Booked Your Taxi
Outstation Taxi Customer Support No. +91- 888-111-8838
Airport Transfer
One Way Cabs
Railway Transfer Contact Us At info@musafircab.com
Corporate Car Rental
------------------------------------------------------------------------------------------