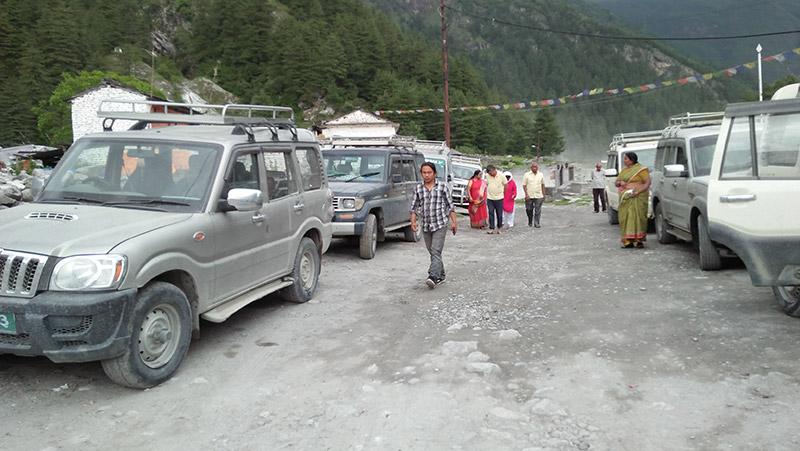 JOMSOM & MUKTINATH Taxi, Cab Service,
Jomsom is a great place to start trekking. The diverse landscape and culture found along this trekking route give marvelous insight into the way of life of Nepali people of various ethnic groups.
The highlight is a trek through the deepest gorge in the world carved by the Kali Gandaki River, which originates in the Tibetan plateau to eventually flow into the Ganges in India.
Not too far from Jomsom, you find Muktinath, the famous pilgrimage site for Buddhists as well as Hindus. To Hindus, Muktinath is a sacred place of salvation. They believe that bathing in the waters here guarantees salvation after death. The Hindu god, Brahma, is said to have lit the eternal flames that burn at Muktinath.
To Buddhists, Muktinath is a place where the great sage Guru Rinpoche (Padmasambhava) who brought Buddhism to Tibet, came to meditate.
The area is a perfect place to find fossilized ammonites, known locally as Shaligram, which are found all along the upper reaches of the Kali Gandaki.
This part of Nepal is inhabited by Gurungs and Magars in the lower regions of the Kali Gandaki, Thakalis around Jomsom and people with strong Tibetan roots, the Lopa, around Muktinath and up in Mustang.
Their customs and attire are distinct and this trek is ideal for observing the diversity of the ethnic groups and their customs. Hinduism dominates the lower parts while as one climbs further up, Tibetan Buddhism predominates.
If you happen to be in Muktinath in early September, you are likely to be in time for one of Nepal's unique festivals, the annual horse race known as Yartung. This is a week of some serious horse racing, Tibetan style, and some equally serious merrymaking.
Our Taxi Services in Jomsom
If you are looking for Cab Service in JOMSOM & MUKTINATH let us know and we will be happy to provide you with the best price Deals for Car Hire in JOMSOM & MUKTINATH. Musafircab offers Taxi Service in JOMSOM & MUKTINATH, Cab Service in JOMSOM & MUKTINATH, Online Car Rental in JOMSOM & MUKTINATH, JOMSOM & MUKTINATH Taxi Service, Local Cab Service in JOMSOM & MUKTINATH, Outstation Cab Service in JOMSOM & MUKTINATH, Taxi Service for JOMSOM & MUKTINATH airport transfer, Taxi Service for Airport pick-up and drop. We provide you a wide range of local and outstation packages for the JOMSOM & MUKTINATH taxi service that will provide you a comfortable and safe journey by taxi, cab, and luxury cars not only in JOMSOM & MUKTINATH but all over Nepal.
Muktinath taxi fare. Drive from Jomsom to Muktinath Temple
Rs 1400 Per Pax for one way
Jomsom Airport Taxi Fare
Jomsom is known for its airport that offers a quick entry or exit to the valley with regular daily flights from Pokhara. Book Jomsom Airport Taxi in Nepal Just call us or whatsapp at +91-8881118838 with Musafircab and experience the majestic and mesmerizing view or Nepal and its destination. Click now for more details. The strong winds that blow up the valley prevents flights from taking off from Jomsom after 11 a.m. Jomsom can also be considered a place to use as a base for exploring the upper part of the Kali Gandaki region. There are numerous accommodation options including a new high class resort.