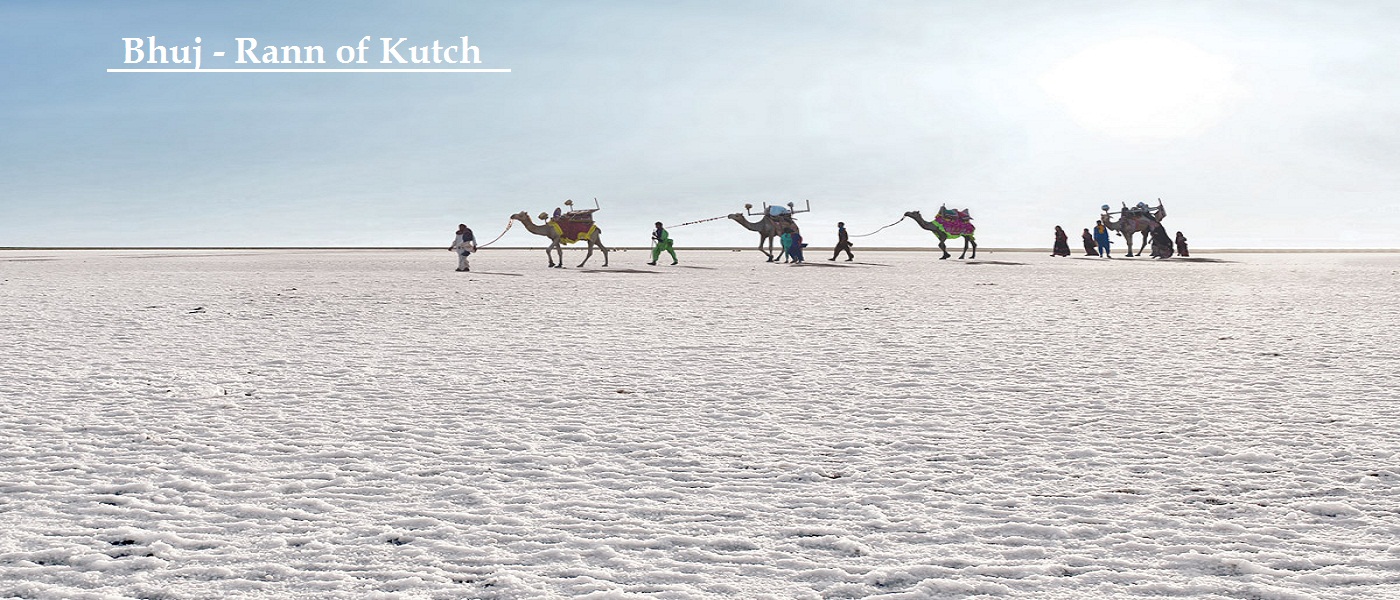 Bhuj - "Rann of Katch"
---
Bhuj
is District Headquater of Kutch District in the state of Gujarat, India. It is situated in the lowlands between the Rann (marsh) and the Gulf of Kachchh (Kutch). Bhuj is known for its Rann Utsav(festival) also known as Desert Festival, which is held every year in February/March.It usually coincides with the Hindu festival of Shivratri. The main attractions of this festival are demonstration of traditional handicrafts, cultural events and tours in and around the city. Bhuj is known for its palaces, built in the traditional Kutchi style. Aina Mahal or the Palace of Mirrors (Old Palace), surrounded by a small, fortified courtyard built in the 18th century, is located in the old part of the city. It is an important tourist spot in Bhuj. The Sarad Bagh Palace, Kuchch Museum, the Swaminarayan Temple, Bharatiya Sanskriti Darshan Kachch are other tourist attractions of this city. If you are looking for Cab Service in Bhuj let us know and we will be happy to provide you with best price Deals for Car Hire in Bhuj for Airport Transfer, Railway Station Transfer, Half-Day and Full Day Service in Bhuj City, car rental in Bhuj , Bhuj cabs booking , cab service in Bhuj, luxury car rental Bhuj, rent a car in Bhuj, corporate car rental in Bhuj, Taxi service in Bhuj, business rent a car Bhuj, Bhuj Airport cab booking, Car Rental Tour Packages in Bhuj To visit Bhuj and its destinations, you can hire a taxi from Musafircab at reliable costs and according to your choice that can be fit in your budget.
Why you choose Us ?
If you are looking for a cab services you can try Musafircab. We are the most trusted Cabs services provider all over the India.We cover +140 cities and over +1600 destination all over India. We provide you the fare tour with a variety of packages which you can choose according to your need. Our driver take off you on time and help you as a local guider in that city. You can book a cab for a full day or for some hours as you need.Our agents will help you to plan your day for a proper visit.
How can you book a Cab?
You can book a cab or taxi to visit Bhuj we can provide our best service for your destination. Our services are best,we can provide you comfortable and relaxed journey for your source to destination.You can book a cab through our websit www.musafircab.com or you can call us on +91- 888-111-8838 our customer care support are available 24*7 for your help. You can call us anytime for an enquiry. Musafircab is a trusted company among all the tour and travelling company.
Full Days Cabs And Half Days Cabs
Full Day Cab : If you are planning to spend your whole day in Bhuj we can provide our cab with a driver as a local guide who can help you to visit your place on time without any worry.
Half Day Cab : If you want to spend some hours in Bhuj we can provide you the fair prize trip.You can book a Cab for some hours.
Places we can visit in Bhuj
1. Aina Mahal
The Aina Mahal is an 18th-century palace located next to the Prag Mahal in Bhu, Gujarat, India. The Aaina Mahal palace, or 'Hall of Mirrors' was built during the flamboyant rule of Lakhpatji. It was built by Rao Lakhpati in 1761. The chief architect and designer of Aina Mahal was Ram Singh Malam, who was assisted by local builder community in construction. It was constructed with marble walls adorned with bronze lace and glass. The walls of the palace are of white marble and are not covered with mirrors separated by gilded ornaments with shades of Venetian glass. The Hall of Mirrors in the palace is the main attraction for the visitors as it has The Nagpanchami Ashwari Scroll, This forty seven foot long scroll vividly depicts the royal procession of Maharao sri pragmalji ii (1838-76 AD) held annually on Nagpanchmi. Fuvara Mahal Built in 1740 by way of Lakhpatji who had an ardor for music, art, structure, and literature. this turned into an amusement room, decorated by way of nice portions of art, Belgium chandeliers and lamps filled with colored water. Aina Mahal Also known as the hall of mirrors, it changed into built during the flowery rule of Maharao Lakhpatji in 1750 AD. Other including Ivory Door, Hira Mahal, Marriage Ceremony Mandap, Darbar Hall, Maharao's Horoscope. Timing when you can visit Aina Mahal is Monday to Sunday – 9 AM to 11.45 AM, and 3 PM to 5.45 PM.
2. Prag Mahal
The Prag Mahal is a 19th-century palace located next to the Aina Mahal. It is suitated in Old Dhatia Falia, Bhuj, Gujarat, India. Prag Mahal is named after Rao Pragmalji, who commissioned it and construction began in 1865. It was designed by Colonel Henry Saint Wilkins in the Italian Gothic style, and many Italian artisans were involved in its construction. The local Kutchi builder community were also involved in construction of Prag Mahal along with Colonel Wilkins. The huge staircases and deep passages are floored with colourful Minton tiles and coated with handrails on classical balusters. The highlight is the Darbar corridor, which has Corinthian pillars, molded ceilings, massive Venetian chandeliers, Greece-roman statutory, classical balustrade galleries and ceiling murals of Shakespearean characters. The furnishing is in the Victorian-edwardian and art deco fashion. The corridor, which has a group of hunting trophies, has now been converted right into a Museum. Its a must visit sight for all Kutch Visitors. Timing when can visit Prag Mahal iss from 09:00 am to 12:00 pm / 3 pm to 6 pm; in winter : 09:30 am to 12:30 pm / 02:30 pm to 05:30 pm. There is an entry fee in Prag Mahal.otels
Hotels in Bhuj
Regenta Resort, Bhuj 4.1* Very Good
Hotel Mangalam, Bhuj 4.1* Very Good
City The Village Resort, Bhuj 4.2* Very Good
Hotel Usha Residency 4.3* Very Good
Hotel White Desert 4.1* Good
Resturant In Bhuj
Umiyaji Dining Hall 4.3* Very Good
Sankalp 4.2* Very Good
Noorani Resturant 4.2* Very Good
Park View Resturant 4.1* Very Good
Lucky Resturant 3.9* Good
Transfer Car Rental services
Musafircab delivers on time transfer services which you can avail to reach places of commuting like airports, railway station, pick from hotels from bus stands and vice versa to a location of your choice. Read more at Bhuj Transfer Taxi.
Our Services In Bhuj
Local Car Rentals Just Call Us And Booked Your Taxi
Outstation Taxi Customer Support No. +91- 888-111-8838
Airport Transfer
One Way Cabs
Railway Transfer Contact Us At info@musafircab.com
Corporate Car Rental
--------------------------------------------------------------------------------------------------------------------------------