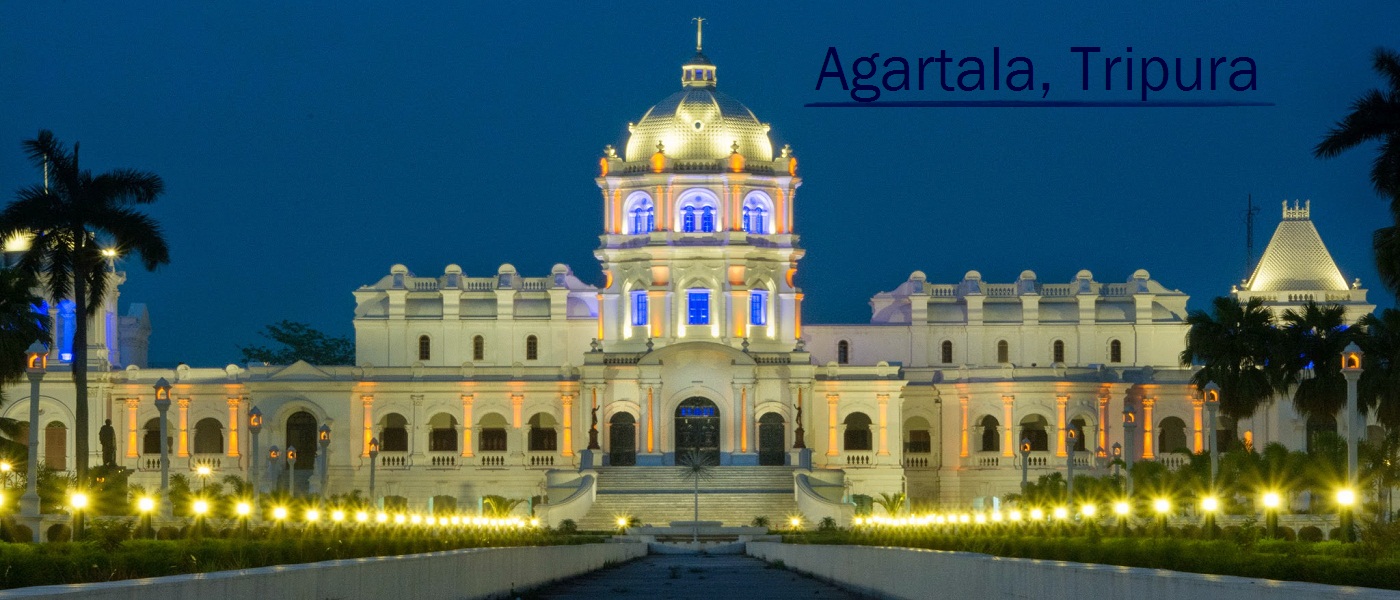 Tourism in
Agartala
Agartala
is the capital capital of the Indian state of Tripura. It is lies on the bank of the river Haora and 2km away from Bangladesh border. It is one of the fastest developing cities of India. Agartala word is derived from two words namely Agar means a valuable perfume of the tree Aquilaria and the Tala means underneath, a reference to the density of Agarwood tree. Agartala is well connect to the other cities through air, road and rail network. It has an airport namely Maharaja Bir Bikram Kishore Manikya Airport Agartala Airport, have a direct flight to the other cities Kolkata, Imphal, Delhi, Guwahati, Bangalore, Visakhapatnam, Coimbatore and Chennai. There are many tourist attraction place in Agartala such as Ujjanyanta Palace, Neermahal Palace, Tripura Sundari Temple, Ummaneshwar Temple and many more place. Agartala s famous for its temples, palaces, and rich history of the Manikya kings and its connection to Nobel Laureate Rabindranath Tagore. Agartala is also noted for its bamboo handicrafts, and local hand-woven shawls and textiles.
If you are looking for Cab Service in Agartala let us know and we will be happy to provide you with best price Deals for Car Hire in Agartala for Airport Transfer, Railway Station Transfer, Half-Day and Full Day Service in Agartala City, car rental in Agartala , Agartala cabs booking , cab service in Agartala, luxury car rental Agartala, rent a car in Agartala, corporate car rental in Agartala, Taxi Service in Agartala, business rent a car Agartala, Agartala Airport cab booking, Car Rental Tour Packages in Agartala To visit Agartala and its destinations, you can hire a taxi from Musafircab at reliable costs and according to your choice that can be fit in your budget.
Why you choose Us ?
If you are looking for a cab services you can try Musafircab. We are the most trusted Cabs services provider all over the India.We cover +140 cities and over +1600 destination all over India. We provide you the fare tour with a variety of packages which you can choose according to your need. Our driver take off you on time and help you as a local guider in that city. You can book a cab for a full day or for some hours as you need.Our agents will help you to plan your day for a proper visit. Our goals for our customer is :
Ensuring Customer Delight, Comfort and also Safety.
Ensuring Professional and Timely Service.
Structured organization for Total Quality Management.
Providing all out answers for corporate travel necessities.
Maintaining our definitive maxim in accomplishing 100% customer fulfillment
To give customers the Extra Value from the buck
How can you book a Cab?
You can book a cab or taxi to visit Agartala we can provide our best service for your destination. Our services are best,we can provide you comfortable and relaxed journey for your source to destination.You can book a cab through our websit www.musafircab.com or you can call us on +91- 888-111-8838 our customer care support are available 24*7 for your help. You can call us anytime for an enquiry. Musafircab is a trusted company among all the tour and travelling company.
Local Cab Services
Full Day Cab : If you are planning to spend your whole day in Banaras we can provide our cab with a driver as a local guide who can help you to visit your place on time without any worry.
Half Day Cab : If you want to spend some hours in Banaras we can provide you the fair prize trip.You can book a Cab for some hours.
Outstation Cab Service
If any traveler wants to plan for weekend getaways or for a family leisure trip outside the city limits Musafircab arranges for a compact tour package. We take up group packages from a city in India connecting places nearby. We would send cars accommodating the size of the group. Outstation car rental service is divided into three type's services like: Roundtrip, One Way Trip and Multicity.
Airport and Railway Transfer
Agartala is well connect to other cities through raod, rail and air network. Agartala is connected to other cities in India by air via Maharaja Bir Bikram Kishore Manikya Airport Agartala Airport and via rail by Agartala Railway Station. We provide all types of cabs for airport and railway pickup up and drop.
Wedding Car Rental Services
We offer a wild range of Luxury and Premium Cars for wedding purpose. You can book a cab for a full day or for a half day. Our drivers are well-groomed and are always on time.
Top 3 places you can visit in Agartala
1. Ujjayanta Palace
Ujjayanta Palace is a museum and the former palace build by the King of Tripura, Maharaja Radha Kishore in between 1899 and 1901. It is located on the bank of the lake and garden inspired by the Mughal style. The name 'Ujjayanta Palace' was given by Rabindranath Tagore, a regular visitor of Tripura. The State has owns a lineage of an independent royal state. The palace includes the Public halls, Throned room, Durbar Hall, Library, The Chinese Room and The Reception Hall. It is major place of tourist attraction.
2. Jagarnath Temple
Jagarnath Temple is a famous temple suitated in the Ujjayanata Palace ground. This temple is dedicated to Hindu Gods Jagannath, Balabhadra and Subhadra. This temple was constructed by Maharaja of Tripura of the Manikya Dynasty in the 19th century It is believed that the Jagannath idol or the Neelmadhav idol was donated by the famous Puri's Jagannath Temple. The temple is a national heritage. This is a beautiful temple and a best place to click some amazing pictures.
3. Umamaheswar Temple
Umamaheswar Temple is one the most prominent tourist destination in Agartala. It is located inside the Ujjayanta Palace. This temple is devoted to Goddess Durga. This is an another name of Goddess Durga. The temple architecture is having a much resembles with the temples of Bengal. The temple is in orange colour influenced by West Bengal culture.
Other places where you can visit in Agartala are Neermahal, Tripura, Sundari Temple, Buddha Temple, Jampui Hill and many more
Hotels in Agartala
Hotel Sonar Tori 4.0* Very Good
Hotel Palace Inn 4.7* Excellent
A India Guest House 4.0* Very Good
Ginger Hotel Agartala 3.9* Good
Hotel Woodland Park 3.5* Good
Transfer Car Rental services
Musafircab delivers on time transfer services which you can avail to reach places of commuting like airports, railway station, pick from hotels from bus stands and vice versa to a location of your choice. Read more at Agartala Transfer Taxi.
Our Services In Agartala
Local Car Rentals Just Call Us And Booked Your Taxi
Outstation Taxi Customer Support No. +91- 888-111-8838
Airport Transfer
One Way Cabs
Railway Transfer Contact Us At info@musafircab.com
Corporate Car Rental
--------------------------------------------------------------------------------------------------------------------------------