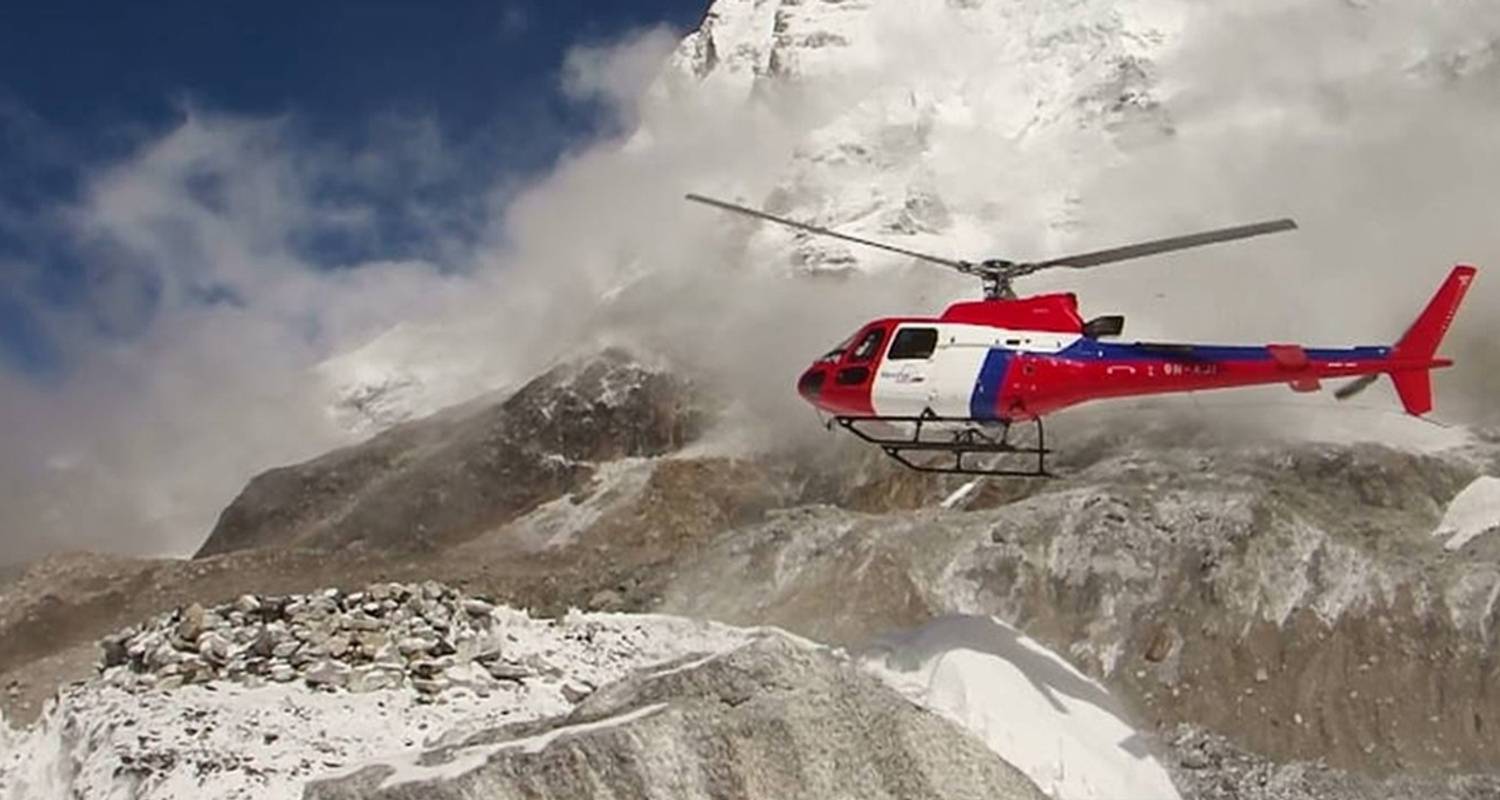 Kathmandu to Muktinath Helicopter Tour Package
---
Kathmandu- Muktinath Temple- Kathmandu
Trip Duration
1 days tour
Starting Price (per Helicopter )
USD 4500
Departure Date
Customizable
Most Popular for
Group/Family Tour
Muktinath Temple is within a one-hour flying distance from Kathmandu and thirty minutes from Pokhara. After landing at the helipad at Muktinath, you will be provided one hour to have a darshan of Muktinath Dham. Temple is within a few minutes' walking distance from the helipad. Since it's a windy place spending a long time for pooja might affect the flying time.

Muktinath word is derived from Mukti and Nath. "Mukti" means "Salvation or Nirvana" and "Nath" means "God or Master". Mukti Holds great significance for all spiritual people in the south Asian sub-continent. Muktinath this Sanskrit name itself has a religious overtone and a sort of emotional ring to it for the devout Hindus. The name is a synthesis of two words - (the provider of salvation) has been one such holy site, where thousands of devotees flock for attaining the much sought-after moksha (Freedom) from the cycle of birth and rebirth. It is an ardent wish or a dream if you may say, of every Hindu to get Mukti-Nirvana from this cycle of taking births over and over again. It is a belief of the Hindus that this world is "MAYA" (an illusion) and the earliest one gets out of it the better and a visit to Muktinath will help them achieve that goal. Since then it called Muktinath. The Hindus call it Muktichhetra (place of salvation) is one of the four religious sites. Many Shaligrams (Ammonite) found during Muktinath Yatra over here are considered by Hindus as an incarnation of Lord Vishnu and worship them. According to Hindu Myth lord Vishnu turned into Shaligram because of Brinda's Curse. Muktinath Temple is opened throughout the year but especially in Rishitarpani, Ram Navami, and Bijay Dashami thousands of pilgrims gather here to celebrate the festival.
Attraction in Muktinath Temple
Top Highlights
Kathmandu to Muktinath by a chartered helicopter.
Visit Muktinath Temple and back in just 3 hours from Kathmandu.
Amazing view of the world's eighth highest peak - Mount Manaslu (8,163m).
Views of Holy Gandaki River, Jomsom, Kagbeni, and Muktinath Village.
An adventurous horse ride from Helipad to Temple Gate.
Holy bath under 108 chilled water springs and 2 holy Kunda.
Worship Vishnu God.
Tour Itinerary
7:00 AM: Transfer to Airport
7:30 AM: Fly from Kathmandu to Muktinath.
8:15 AM: Perform Pooja and Havan(worshipping) for 30 minutes
8:45 AM: Fly back to Kathmandu
10:00 Am: Return to Kathmandu airport(finally departure)
Kindly find below the helicopter charter cost for Muktinath Mandir Darshan from Kathmandu. After landing, 1.5 hour of grounded time will be provided to visit the Temple and to complete all the ritual activities.
Muktinath Helicopter Tour Information

Passenger

Kathmandu
5
INR 62,205.00
4
INR 77,800.00
3
INR 1,03,700.00
2
INR 1,55,600.00
1
INR 3,11,100.00
Sector: Kathmandu - Muktinath - Kathmandu
Rate per charter for Nepalese: NPR 4,80,000.00
Rate per charter for Foreign nationality: USD 4500.00

Maximum bearable weight per charter: 400 kgs. (including passengers + belongings)
Maximum persons per charter: 05 persons depending on their weight
Maximum Ground Time : 60 minutes (depending on weather)
Notes:
All the above rates are in Indian Currencies, per-person basis.
Rate valid till December 2021
Price is subject to change daily depending upon the US Dollars exchange rate.
Inclusion
Exclusion

Helicopter cost from Kathmandu to Muktinath and return from Muktinath to Kathmandu.

Camera, video, and Personal expenses
Darshan and puja expenses.
Any extra cost incurred on behalf of an individual due to illness, accident, hospitalization, or any personal emergency
Porterage (coolie charges), laundry, telephone charges, shopping, wines & alcoholic beverages, mineral water, items of personal nature, any food or drink
Travel Insurance
For a Trip to Muktinath Temple kindly requests you to read the terms and conditions** thoroughly.
FAQ
1. Is Breakfast Included During The Trip?
Breakfast is excluded from the trip cost. But if you wish to add breakfast during your trip extra charge will be added on your trip cost. The normal breakfast would cost in between $25 to $30 per person. For luxury breakfast, it would cost in between USD 110 to 125 per person.
2. What Is The Payment Method If We Book Directly Through Your Company?
Once the reservation and traveling dates are confirmed you need to make advance payment which can be paid through wire transfer or can make full payment via credit card after your arrival in Nepal. Note: payment via credit card is subject to be 4% fee in Nepal.
3. Are There Weight Limits On The Flights?
The helicopter can accommodate a maximum of 5 pax excluding pilots. On a group sharing basis helicopter will depart the minimum requirement of 3 Pax. On a charter, basis the helicopter can accommodate up to 5 Pax. Children above 3 years old can eligible for the helicopter tour.
4. Is There An Age Limit While Travelling In A Helicopter?
There is no age barrier to experience this trip. But in the case of children, children above 3 years old can eligible for a helicopter tour. All age groups can experience a helicopter tour.
5. Do You Charge For Kids Coming To Fly With You As Passengers?
Yes, kids are also required to make payment to experience this tour.
6. Are Helicopter Flights Affected By Weather Conditions?
Mountains weather is often unpredictable. It highly depends upon morning temperature and wind on the very same day. We would suggest you make your traveling dates flexible between 3 to 4 days in order to avoid bad weather. If the flight affected due to weather you can try the next day.
7. How High Could You Possibly Fly And With How Many Passengers?
Most of the helicopters in our fleet will fly above 16000 ft to 23000 ft with a maximum capacity of 5 Passengers.
8. When Is Your Peak Seasons?
March / April / May / September/ October /November / are the peak season for the Everest Base Camp Helicopter Tour. In those months we announce every day fixed departure on our website. If your willing to travel for the next season please kindly contact us for pre-fixed departure dates