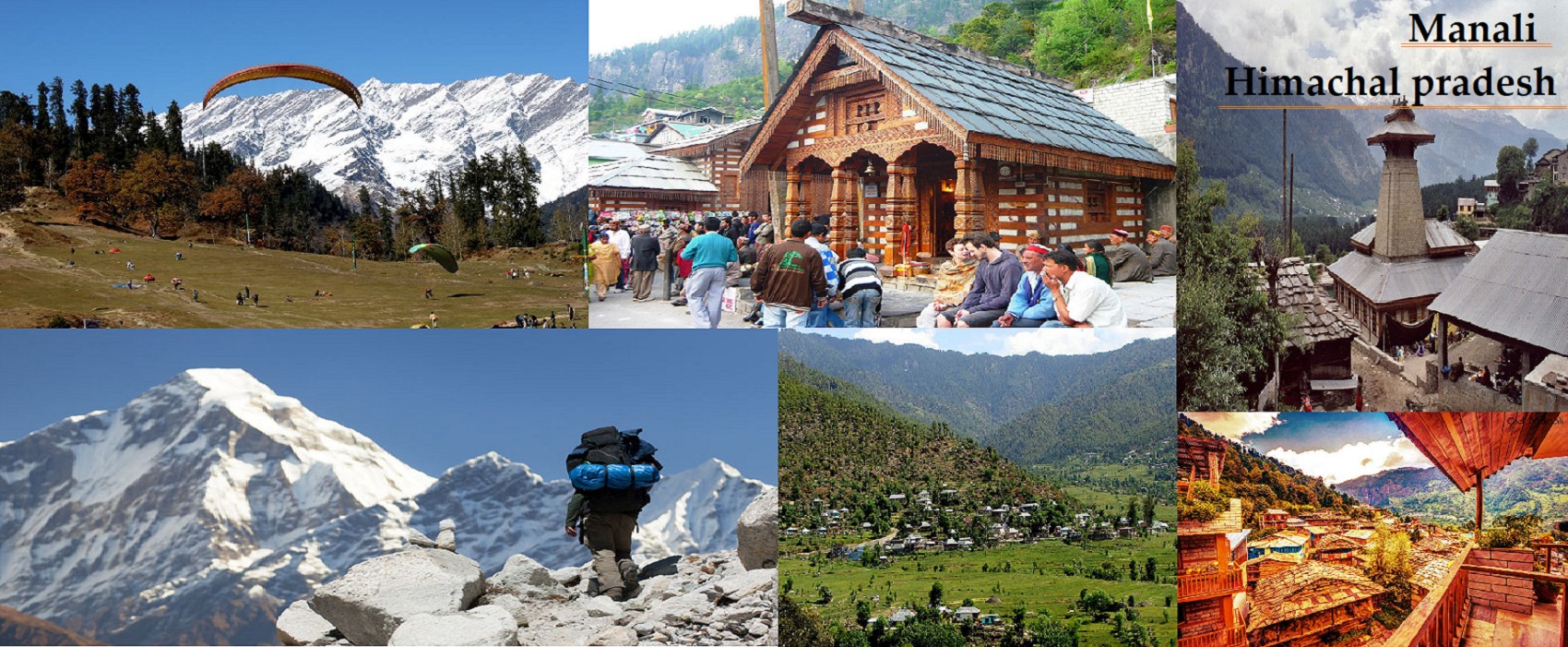 About Manali
Manali is high- altitude Himalayan resort town in India's northen Himachal pradesh state. It has the reputation as a backpacking center and honymoon destitation- Manali is named after Santam Hindu Lawgiver Manu. The name Manali regarded as the derivative of Manu- Alaya''. Which literally means ' the abode of Manu'. The vally is often referred to as the' valley of god's. Old ' Manali village has an ancient temple dedicated to sage Manu.If you are looking for Cab Service in Manali let us know and we will be happy to provide you with best price Deals for Car Hire in Manali for Airport Transfer, Railway Station Transfer, Half-Day and Full Day Service in Manali City, car rental in Manali ,Manali cabs booking ,cab service in Manali, luxury car rental Manali, rent a car in Manali, corporate car rental in Manali, taxi service in Manali, business rent a car Manali, Manali Airport cab booking, Car Rental Tour Packages in Manali To visit Manali and its destinations, you can hire a taxi from Musafircab at reliable costs and according to your choice that can be fit in your budget.
Amezing & Beautiful Visit in Manali
Solang Valley:-
When heading to Manali for a vacation, two absolutely essential destinations in the itinerary are Rohtang and Solang Valley. 14 kilometres to the north west of the main town of Manali, Solang Valley is one of the most popular tourist destinations in Himachal Pradesh. Situated on the way to Rohtang from Manali, every year the valley welcomes tourists in huge numbers.Located at a distance of 13 kms from Manali, Solang Valley lies between Solang village and Beas Kund. It offers a beautiful view of glaciers and snow capped mountains. Since the valley has fine ski slopes, it is a perfect place for skiing.
Rohtang Pass:-
Rohtang Pass, is a high mountain pass on the eastern Pir Panjal Range of the Himalayas around 51 km from Manali. It connects the Kullu Valley with the Lahaul and Spiti Valleys of Himachal Pradesh, India.'Jab We Met' was shot at Rohtang Pass. Nehru Kund, Kothi, Gulaba and Marhi are other attractions near the pass.Owing to its splendid natural beauty, Rohtang Pass is a favourite among the community of film directors. Many blockbusters ranging from 'Jab We Met' to 'Yeh Jawani Hai Deewani' have been shot here.
Adventure Activities in Manali:-
Manali is the hub of Adventure Activities in Manali in Himachal Pradesh. From white river rafting to trekking, opportunities to zorbing to horse- Riding to Skiing to Paragliding, Manali has everything to affer. There are following place in Adventure Activities in Manali Like.............Skiing this is a very good for sceting in Ice. And Camping........''Camping in Manali come with all this and few more material comforts. This is the very wonderfull travelling eith Jeep Safaries he is awesome vistas that grate you gate move and more unreal the higher north you travel. Then you are Book To Musafircab give opportunity to srevice.
Hadimba Temple:-
Hidimba Devi Temple, locally known as Dhungari Temple, also known variously as the Hadimba Temple, is located in Man?li, a hill station in the State of Him?chal Pradesh in north India. It is an ancient cave temple dedicated to Hidimbi Devi, wife of Bhima, a figure in the Indian epic Mah?bh?rata.Located amidst the snow-covered hills of Manali, the Hadimba Temple is a unique shrine dedicated to Hidimba Devi, who was the wife of Bhima and mother of Ghatothkach.
Why you Choose Us?
If you are looking for a cab services you can try Musafircab. We are the most trusted Cabs services provider all over the India.We cover +140 cities and over +1600 destination all over India. We provide you the fare tour with a variety of packages which you can choose according to your need. Our driver take off you on time and help you as a local guider in that city.You can book a cab for a full day or for some hours as you need.Our agents will help you to plan your day for a proper visit. If in case you want to postpone or cancel your journey we can refund you amount without any cancellation charges.
How can you Books A Cab
You can book a cab or taxi to visit Manali we can provide our best service for your destination. Our services are best,we can provide you comfortable and relaxed journey for your source to destination.You can book a cab through our websit or on a call our employee are always available for your help.You can call anytime for an enquiry. Musafir Cab is a trusted company among all the tour and travelling company.
Top & Luxury Hotel's in Manali
Snow Valley Resorts4.9
Sun Park Resort4.8
Thomas Villa, Hotel and Cottages5
PRIMO RESORTS MANALI4.5
The Allure Grand (A centrally heated river side resort)5
WelcomHeritage Urvashi's Retreat4.9
Full Day Cab & Half Day Cab
Full Day Cab:- If you are planning to spend your whole day in Manali we can provide our cab with a driver as a local guide who can help you to visit your place on time without any worry.
Half Day Cab:- If you want to spend some hours in Manali we can provide you the fair prize trip.You can book a Cab for some hours.Having some important office or ucasal work for some hour.
Transfer Car Rental Services
Musafircab.com delivers on time transfer services which you can avail to reach places of commuting like airports, railway station, pick from hotels from bus stands and vice versa to a location of your choice. Read more at Dharamshala Transfer Tax.

Our Service In Manali

Local Car Rental Just Call us and Booked your Taxi
Outstation Taxi Costomer Support No. +91-888-111-8838
Airport Transfer
One Way Cab
Railway Transfer Connect Us At info@musafircab.com
Carporet Car Rental
----------------------------------------------------------------------------------------------------------------------------