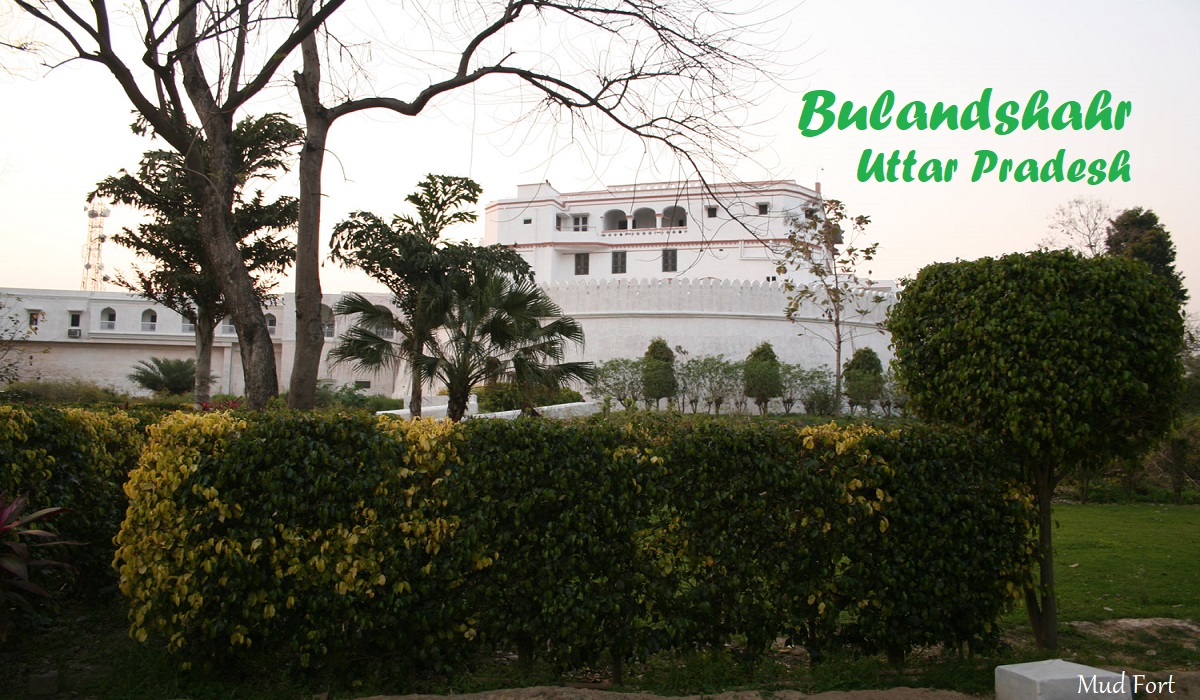 Bulandshahr

Bulandshahr is a city located in the Meerut division of Uttar Pradesh, India. This city is a part of the Delhi National Capital Region(NCR). The distance between Bulandshahr and New Delhi is 68 km and it takes 1 hour 26 mins to reach there. Bulandshahr is the district headquarters of Bulandshahr district. Bulandshahar district is surrounded by Aligarh district, Sambhal district, Gautam Buddha Nagar district, Hapur district, and Amroha district. In the earlier history of Buladshahr, Bulandshahr region is nearer to the capital of Pandavas – Indraprasth and Hastinapur. After of decline of Hastinapur, Ahar which is situated in the northeast of district Bulandshahr became an important place for Pandavas. With passes of time, king Parma made a fort on this part of the region and a king named Ahibaran laid the foundation of a tower called Baran.
Places of interest in Bulandshahr

1. Mud Fort
Mud Fort is also known as Kuchesar Fort. It is an 18th-century fort located in
Kuchesar. The mud fort was captured in 1764 but it was recovered by the Jaat rulers emperor Shah Alam in 1790 and then British in 1807. The Kuchesar fort was originally made of mud, and this is why it is also called "Mud Fort". It is a heritage resort formed by the restoration of a section of Ajit Singh's ancestral property, which was formerly a part of the princely state of Kuchesar. The fort was restored by Neemrana Hotels and turned into a heritage hotel in 1994. A family occupies a portion of the hotel which includes the former reception area and colonial-style dining halls.

2. Kala Aam
The Kala Aam intersection has historic significance because the British used this place for public execution by hanging criminals. This place was probably called murder-A-Place and later the Kala Aam was distorted. This is where the British killed the people of Bulandshahr. The second version is that there is a huge common tree on which the British had hanged the people of Bulandshahr, who fought against them
Why go with Musafircab?
---
We assure you if you choose us we will provide you a relaxed, secured and safe journey at a very low cost. We are the most trusted Cabs services provider all over India. We cover +140 cities and over +1600 destinations in India. We believe that customer satisfaction is important. When you book a cab with us in Bulandshahr, we assure you that your Cab will be on time with a well-mannered and well-trained cabby. Our drivers are locals of the city. They are well known to places and road across that city. If you are new to the city, you don't have to worry about anything our cabby will drop you at your desired location.
Ensuring Customer Delight, Comfort and also Safety.
Ensuring Professional and Timely Service.
Structured organization for Total Quality Management.
Providing all out answers for corporate travel necessities.
Maintaining our definitive maxim in accomplishing 100% customer fulfillment
To give customers the Extra Value from the buck
How to Book a Cab?
---
Musafircab offers the Best Car Rental Service in Bulandshahr for a local visit, outstation visit, Airport, and Railway transfer. You can Book a Cab in Bulandshahr for an outstation visit for one way trip as well as round trip. With Musafircab you can Book a Taxi service in Bulandshahr for all available cab types AC, Non AC, Economical, SUV, Sedan, and Tempo Traveller. We also launch few offers during certain seasons and holidays. We try to provide you best Services from time to time to help you travel at the cheapest possible price. With our user-friendly website, you can book a taxi online in a few simple.
Go to our website www.musafricab.com enter your trip detail. Your pickup location your destination and pick up date and time and the type of your journey i.e., local or outstation then click on search car. After this, you will be directed to a page where you can choose your desired car from the list. Press on book-now and fill your details. You can pay before the trip or at the time of pick-up by cash or debit card.
You can also call us or WhatsApp us on +91-8881118838 or 7408075555 to book a Cab Service in Bulandshahr. Our agents will help you in planning your trip and they will explain to you all the fare detail, Offer detail and Tour Packages to you.
Car Rental Services in Bulandshahr
---
Local Cab Service in Bulandshahr
Half-Day Service: If you are having some work around the city for a short period of time, want a cab for Airport or Railway station transfer, or wanted a cab to go for a shopping or attending a wedding or party or any other occasion, you can try our Half-Day Cab service. This service is one small package of Musafircab for local usages in the city. The half-day package is a 4Hrs/40km package. Our cab will reach to you within some minutes. You can use it like the full day package, but the duration and the rental amount would be reduced to half of the full day package. If the customer needs extra hours or Kilometers additional rental charges apply.
Full-Day Service: If you are planning to spend your entire day in the Bulandshahr, you can try Full-Day cab service in Bulandshahr also called an 8Hrs/80km Package. This service is most desirable for the traveler who wants to spend their entire day in the Bulandshahr.
Outstation Cab Service in Bulandshahr
If any traveler wants to plan for weekend getaways or for a family leisure trip outside the city limits Musafircab arranges for a compact tour package. We take up group packages from a city in India connecting places nearby. We would send cars accommodating the size of the group. Outstation car rental service is divided into three type's services like Roundtrip, One Way Trip and Multicity.
Roundtrip: This is a 'to and fro service' which is useful for those who would want to make a 'to and fro' journey from one destination to another. You can also request for a Roundtrip for multiple destinations from the destination you are staying. Musafircab provides a list of travel destinations along with a set of rental packages for a to and fro or a roundtrip journey.
One way drop: This is for those who need just a one-way drop to their destination from a city to another destination. You can request for a one-way drop for multiple destinations from your destination.
Multi-city travel: Suppose if you plan for visiting more than one city in a fixed time limit, say for instance you would want to visit Bulandshahr from Agra, from Aligarh to Faridabad, and then Faridabad to Bulandshahr, avail our Multi city travel service.
Airport and Railway transfer
Transfer taxi service is useful for travelers who need only pick and drop facility from a location within a city. This service is useful for reaching the airport, bus stand, railway station, hotels, movie theatres and malls in a city. We would see to it that our drivers/chauffeurs are at the spot in time. The Musafircab rental package for transfer taxi is designed on a half-day package basis. That means minimum charges will be calculated per 4 hours/40 km. Musafircab has its hubs conveniently located near all major airport terminals in India thereby ensuring on-time delivery consistently. More importantly, these locations also enable handling of last-minute bookings
Our Services in Bulandshahr

Just Call Us And Booked Your Taxi

Customer Support No. +91- 888-111-8838

Contact Us At info@musafircab.com

---------------------------------------------------------------------------------------------------------------------