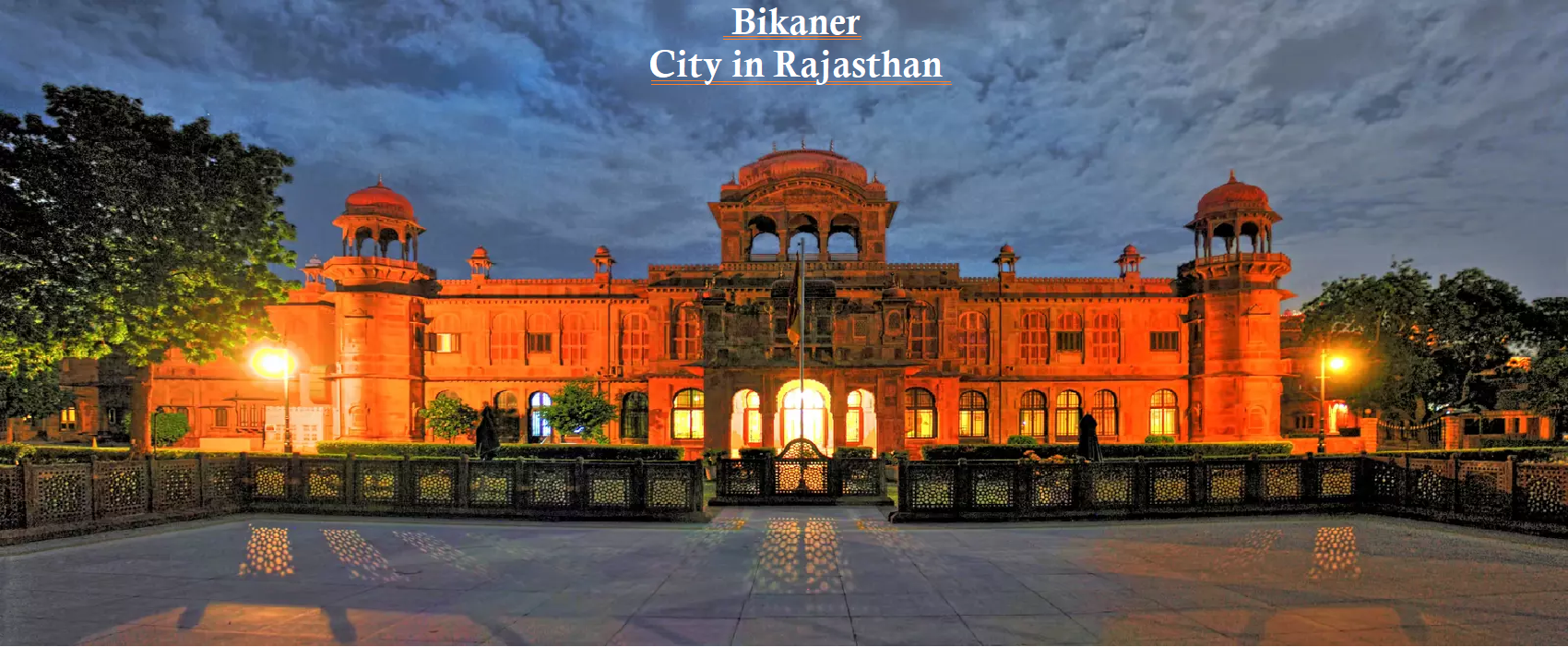 Bikaner -'Camel Country'
Bikaner is a city of Rajasthan in India.It is fourth largest city in Rajasthan this city was founded by Rao Bika.Rao bika was a successor of Jodha, who founded the city of Jodhpur. he city boasts of some of the world's best riding camels and is aptly nicknamed 'camel country'.There are so many tourist palce you can visit. If you are looking for Cab Service in Bikaner let us know and we will be happy to provide you with best price Deals for Car Hire in Bikaner for Airport Transfer, Railway Station Transfer, Half-Day and Full Day Service in Bikaner City, car rental in Bikaner, Bikaner cabs booking , cab service in Bikaner, luxury car rental Bikaner, rent a car in Bikaner, corporate car rental in Bikaner, taxi service in Bikaner, business rent a car Bikaner, Bikaner Airport cab booking, Car Rental Tour Packages in Bikaner To visit Bikaner and its destinations, you can hire a taxi from Musafircab at reliable costs and according to your choice that can be fit in your budget.
Why you choose Us ?
If you are looking for a cab services you can try MusafirCab. We are the most trusted Cabs services provider all over the India. We cover +140 cities and over +1600 destination all over India. We provide you the fare tour with a variety of packages which you can choose according to your need. Our driver take off you on time and help you as a local guider in that city. You can book a cab for a full day or for some hours as you need.Our agents will help you to plan your day for a proper visit. If in case you want to postpone or cancel your journey we can refund you amount without any cancellation charges(T&C applied).
How can you book a Cab?
You can book a cab or taxi to visit Bikaner we can provide our best service for your destination. Our services are best,we can provide you comfortable and relaxed journey for your source to destination. You can book a cab through our website info@musafircab.com or you can call us on +91- 888-111-8838 our customer care support are 24*7 available for your help. You can call anytime for an enquiry. Musafircab is a trusted company among all the tour and travelling company.
Full Days Cabs And Half Days Cabs
Full Day Cab:- If you are planning to spend your whole day in Bikaner we can provide our cab with a driver as a local guide who can help you to visit your place on time without any worry.
Half Day Cab:- If you want to spend some hours in Bikaner we can provide you the fair prize trip.You can book a Cab for some hours. We can suggest you to Musafir Cab.
Place you can visit in Bikaner
Junagarh fort
Junagarh fort is one of the truly mesmerizing places to visit in Bikaner. The unique amalgamation of Mughal and Gujarati architecture makes this fort one of its kind.It was constructed in 1588 AD by Raja Rai Singh, one of Emperor Akbar's most distinguished generals. The fort complex houses some magnificent palaces constructed in red sandstone and marble and visitors can feast their eyes on an attractive assortment of courtyards, balconies, kiosks and windows.The Zenana quarters in particular capture the attention of tourists as they exhibit exquisite designs of great artistic skill. Mirror work, frescos and lacquer work all make this fort look very attractive. Karan Mahal, Phool Mahal, Anup Mahal, Chandra Mahal are some major attractions here.
Karni Mata Temple
One of the unique places to visit in Bikaner, the Karni Mata Temple is dedicated to Karni Mata, an incarnation of goddess Durga. Legend has it that when Karni Mata's son died, she requested Yama to restore her son's life, but Yama refused. So, Karni Mata being the incarnation of Goddess restored the life of her son and declared that from now onwards her family will not face death but be reincarnated in the form of rats.The visitors worship these rats and offer prasad to them for they are believed to be the sons of Karni Mata. The silver gate and intricate marble carvings of the temple add to its charm.
Lalgarh Palace
This is beautiful red sandstone structure is one of the major tourist attractions in Bikaner. With a perfect blend of Rajput, Mughal, and European architectural style, this place is the true spirit of Rajasthan.This beautiful palace was built by Maharaja Ganga Singh in the early 20th century. he palace also consists of a museum that is situated inside Ganga Niwas. Here one can see the Miniature Paintings that are related to Bikaner school of art, Terracota Wares and armors. There is also a library that has a good collection of Sanskrit Manuscripts written on parchments, plaques of silver, copper and gold.
National Resarch Centre on Camel
This is one place in Bikaner, in fact in entire Rajasthan, which must be visited at least once. National Research Centre on Camel is more of a breeding farm, which has about 230 camels of 3 different breeds.The National Research Centre on Camel is 8 kilometres from the city. This camel research and breeding centre is the only one of its kind in Asia.The centre is situated about 8kms from Bikaner and is open for visitor between 2.30PM to 5PM. Small museum and camel ride make this place particularly special for visitors.
Rampuria Haveli
Rampuria Haveli is amongst the best places to see in Bikaner. In fact, Rampuria is a group of Havelis that were constructed in the 15th century by Rampuria family. The havelis are made of Dulmera red sand stone and displays exquisite artistic skills. jharokhas (casements), entrances, latticed windows, divankhanas, gumaharias or basements. Leaves and flowers decorate every jharokha, lending it a pleasant touch.The wood carvings in Rampuria Havelies are extremely exquisite. Spaced close to each other, the havelis are truly a sight to behold.
Many other places are in Bikaner where people can visit just as Gajner palace, Bhandasar Jain Temple,Badal Mahal, Royal Canotaphs, shri Laxminath Temple.
Top Hotel in Bikaner-
Narendra Bhawan4.8
The Laxmi Niwas palace5
Sagar hotel3.8
Maharaja Ganga Mahal4.2
Karni Bhawan palace5
Transfer Car Rental services :
Musafircab delivers on time transfer services which you can avail to reach places of commuting like airports, railway station, pick from hotels from bus stands and vice versa to a location of your choice. Read more at Bikaner Transfer Taxi.
Our Services In Bikaner
Local Car Rentals Just Call Us And Booked Your Taxi

Outstation Taxi Customer Support No. +91- 888-111-8838

Airport Transfer

One Way Cabs

Railway Transfer Contact Us At info@musafircab.com

Corporate Car Rental
-------------------------------------------------------------------------------------------------------------------------------------------------------------------------------------------------------------------------