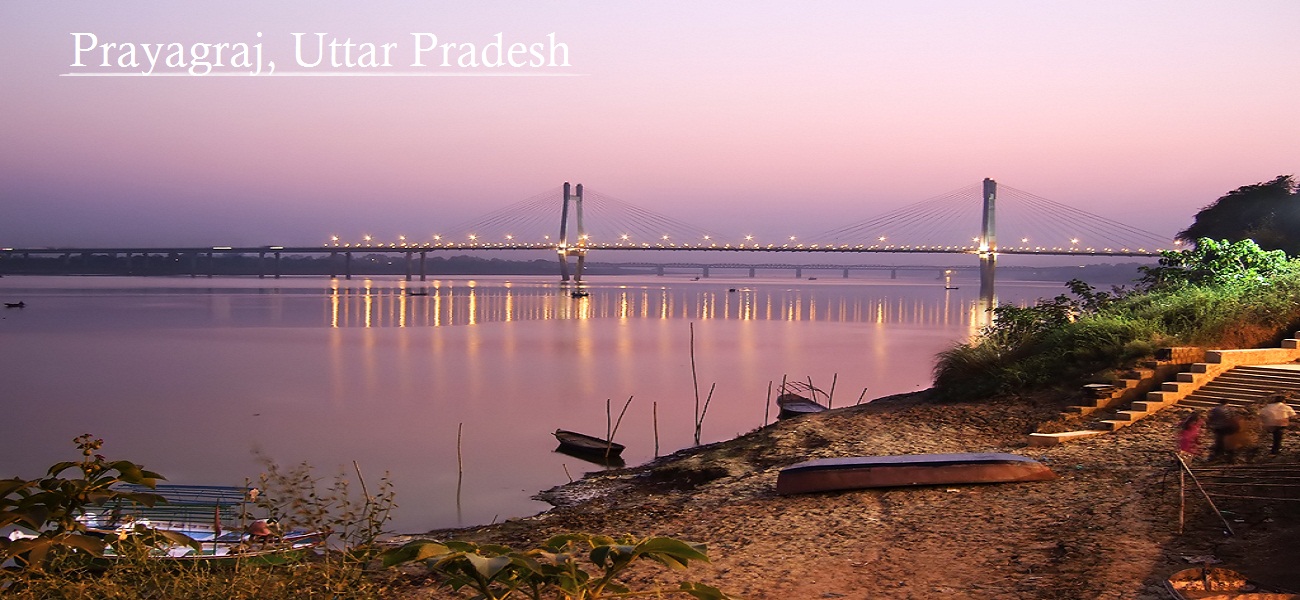 Taxi Service in Allahabad | Car hire in Allahabad
Taxi Service in Allahabad | Car hire in Allahabad
Prayagraj, earlier called as Allahabad is the city of Uttar Pradesh, India is one of the most divine places of Hindus. Prayagraj has its great mythological history. Prayagraj is first mentioned in the Agni Purana and in Manusmriti, as the place where Brahma attended a ritual sacrifice. The Puranas record that Yayati left Allahabad and conquered the region of Saptha Sindhu. His five sons founded the main tribes of the Rigveda. Lord Rama, the protagonist of the Ramayana, spent time at the Ashram of Sage Bharadwaj before traveling to nearby Chitrakoot. Allahabad is very famous for its Triveni Sangam, "three river confluence " where Ganga, Yamuna and Saraswati river meet.
If you are looking for Cab Service in Allahabad let us know and we will be happy to provide you with the best price Deals for Car Hire in Allahabad, Local Cab Service Allahabad, Outstation Cab Service in Allahabad. Musafircab offers Taxi Service in Allahabad, Cab Service in Allahabad, Online Car Rental in Allahabad, Allahabad Taxi Service, Local Cab Service in Allahabad, Taxi Service for Allahabad airport transfer, Cab service for an outstation visit in Allahabad at a very affordable cost. We provide all types of taxi/cabs such as the Tata Indica, Honda Amaze, Swift Dzire, Toyota, Honda, Indigo ECS, Innova, Traveler, etc. We provide you a wide range of local and outstation packages for Allahabad taxi service that will provide you a comfortable and safe journey by taxi, cab, and luxury cars not only in Allahabad but all over India.
Why you choose Us?
We assure you if you choose us we will provide you a relaxed, secured and safe journey at a very low cost. We are the most trusted Cabs services provider all over India. We believe that customer satisfaction is important. When you book a cab with us, we assure you that your Cab will be on time with a well-mannered and well-trained cabby. Our drivers are locals of the city. They are well known to places and road across that city. If you are new to the city, you don't have to worry about anything our cabby will drop you at your desired location. We work to make your journey an unforgettable and excellent experience. It's our mission to provide excellence and reliance on our clients. With Musafircab you can enjoy your holidays without any worries.
How can you book a Cab?
You can easily book a cab Service in Allahabad in just a few minutes. There is 2 way through which you book a Taxi Service in Allahabad through our website or by calling us. Our customer care support is available 24*7 for your help. You can call us anytime for an inquiry.
Go to our website www.musafricab.com enter your trip detail. Your pickup location your destination and pick up date and time and the type of your journey i.e., local or outstation then click on search car. After this, you will be directed to a page where you can choose your desired car from the list. Press on book-now and fill your details. You can pay before the trip or at the time of pick-up by cash or debit card.
Our agents will help you in planning your trip and they will explain to you all the fare detail, Offer detail, Tour Packages to you.
Places You can visit in Prayagraj
There are many places in Allahabad (now called Prayagraj) which attract tourist and people toward its. It is one f the most important pilgrimage place for Hindus.
1.Triveni Sangam
The most famous place you can visit in Allahabad is Triveni Sangam. " three river confluence " namely Ganga, Yamuna, and Saraswati. The three rivers maintain their visibility, identity and can be identified by three different colors, the water from the Ganges is clear, while the Yamuna is greenish in color, and the Saraswati is said to make its presence felt underwater. It is believed that a dip in the Triveni help them wash away their sins and free them from the cycle of rebirth. This is the holiest point in the deeply spiritual city of Allahabad. Tourists visiting Sangam can hire boats to go out and immerse themselves in this holy water. This place is also super crowded during the religious festival- Kumbh Mela. It has also been the site of the immersion of ashes of several national leaders, including Mahatma Gandhi in 1948.
2. Allahabad Fort
Allahabaad Fort is located on the bank of river Yamuna neae its confluence with the river Ganga. This fort was originally built by the great emperor Ashoka but later it was repaired by the Mughal Emperor Akbar in 1583. The fort is under the control of the Indian Army. It is recognized by Archaeological Survey of India as a monument of national importance. This fort has three magnificent galleries which are flanked by high towers. Saraswati Koop it is said to be the source of the holy river Saraswati, is one of the fort's most popular features; other notable attactions include the Patalpuri temple and Akshaya Vat, a fig tree held sacred in Hindu mythology which is believed to be immortal.
3. Khusro Bhag
Khusrau bagh is located in muhalla Khuldabad close to the Prayagraj Junction Station. It is the burial ground of prince Khusro, the eldest son of Emperor Jahagir. A quadrangle-shaped walled garden, Khusro Bagh is the location of four tombs belonging to the family of Shah Jahan. It also includes the tomb of Shah Begum, she was the first wife of Prince Salim Mirza; Khusrau Mirza's, Jahangir's Rajput wife tomb and and Nithar Begum, Khusrau Mirza's sister and Jahangir's daughter. It is listed as an Indian Site of National Importance. It is the beautiful and one of the city's most popular tourist attractions. This park holds immense historical significance. The tombs are fine specimens of Mughal arts and architecture, elaborately decorated with fine stone carvings and motifs.
4. All Saint Cathedral
Saint cathedral is located at the centre of a large open space at the crossing of two of the principal roads of Allahabad, MG Marg and SN Marg. Saint Cathedral, popularly known as 'Patthar Girija' which means church of stone, is one of the city's most famous cathedrals and a revered sacred space among Allahabad's citizens. It is an Anglican cathedral, constructed in Gothic style, remarkable for the intricate work and designs done on the marble altar. It was designed by Sir William Emerson. It was consecrated in 1887 and was completed four years later. The church celebrates its anniversary on All Saints' Day (1 November) and is part of the Church of North India
5. Anand Bhavan
Anand Bhavan was constructed in 1930 by Indian leader Motilal Nehru as the residence of the Nehru family when the original mansion Swaraj Bhavan (previously called Anand Bhavan) was transformed into the local headquarters of the Indian National Congress. Anand Bhavan was donated to Indian government in 1970 by the then Prime Minister Indira Gandhi, the granddaughter of Motilal Nehru and daughter of Jawaharlal Nehru. The house is also the same place where leaders like Motilal Nehru, Jawaharlal Nehru, Indira Gandhi as well as Mahatma Gandhi once stayed. There is a small room in the house where Mahatma Gandhi used to stay. This white and blue coloured home has a library filled with books making it one of the major tourist attractions of Allahabad.
Top Hotels in Prayagraj
Some of the famous hotels in Banaras where you can stay with an ease and feel like home are :
Hotel Kashi4.9
Hotel Kanha Shyam3.4
The Legend Hotel3.1
Milienium Inn5
India foods are famous all over the world its delicious taste and aroma smell attract the people towards it. Some of the famous restaurant where you can visit are :
Sagar Ratna
Eat on
EL Chico Resturant .
Transfer Car Rental services :
Musafircab delivers on time transfer services which you can avail to reach places of commuting like airports, railway station, pick from hotels from bus stands and vice versa to a location of your choice. Read more at Allahabad Transfer Taxi.
Our Services In Prayagraj :
Local Car Rentals Just Call Us And Booked Your Taxi
Outstation Taxi Customer Support No. +91- 888-111- 8838
Airport Transfer
One Way Cabs
Railway Transfer Contact Us At info@musafircab.com
Corporate Car Rental
------------------------------------------------------------------------------------------------------------